At these places you can pick up your orders made via our e-shop.
1. Nemravka.cz (warehouse, office and pick up place) address: K nemocnici 50, Tehovec - Vojkov
Pick up your order or do the shopping directly at this place. The full range of goods offered in the e-shop is available here. You can visit us during the opening hours or by prior arrangement by telephone +420 734 742 604 or by e-mail objednavky@nemravka.cz.
Opening hours:
Monday –     8 am – 2 pm
Wednesday - 8 am – 2 pm
Friday -        8 am – 2 pm
How do you find us in Vojkov? It is very easy...

Take metro C (red line), get off at the station Haje and continue by bus no. 381, 382 and 387 to the bus stop Tehovec – Vojkov (request stop).Walk a couple of meters in the direction the bus came from and take the first street to the left and one more first to the left into the area of Autocentrum. You can see Subaru on the left and Nemravka.cz is just behind.
When travelling by car from Prague, drive through Ricany and continue in the direction of Kutna Hora. After passing through the forest, you can see a sawmill and a loud yellow house on the right. Turn right just behind the house and go downhill. (Autocentrum Vojkov is marked out there.) Get to the gate and turn left into the area. Nemravka.cz is on your left.
The main buildings of the area are displayed on the map, just follow the signs.
In case you get lost, make an emergency call at +420 734 742 604.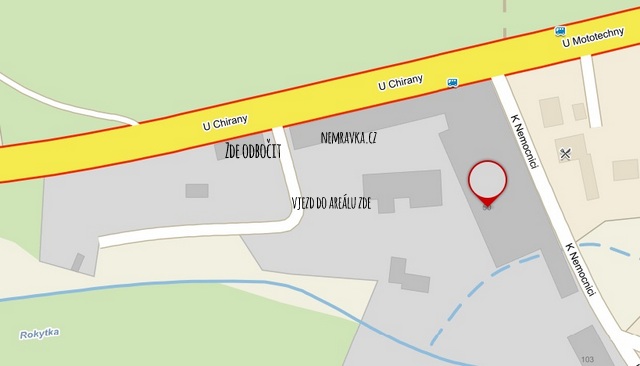 2. The street Blanicka 6, Prague 2 (Rooya shop)
You can pick up your orders at the place of the former Nemravka brick-and-morter store. The store has been closed (so you can not buy any goods there anymore) but personal pick up of your orders is still possible.
NOTICE! Cash is not accepted in the store. For personal pick up you can use only the following payment methods: bank transfer, payment by card or PayPal. The handling fee of CZK 30 is charged for picking up the goods at Blanicka street (the fee partially covers the transport costs).
How do you find this pick up place?
address: Blanicka 772/6, Prague 2 - Vinohrady
Take metro A (green line), get off at the station Namesti Miru and the place is within 3 min walking distance.
Take metro C (yellow line), get off at the station I.P.Pavlova, take a tram no. 4, 10, 16 or 22 to Namesti Miru tram stop (the first stop).
If you go by car, beware of parking in the blue zones reserved for residents only. Parking ticket machines are e.g. in Slezska street, Korunni street (on departure from Namesti Miru), around the Vinohrady Theatre, at Namesti Miru or in front of the Court building.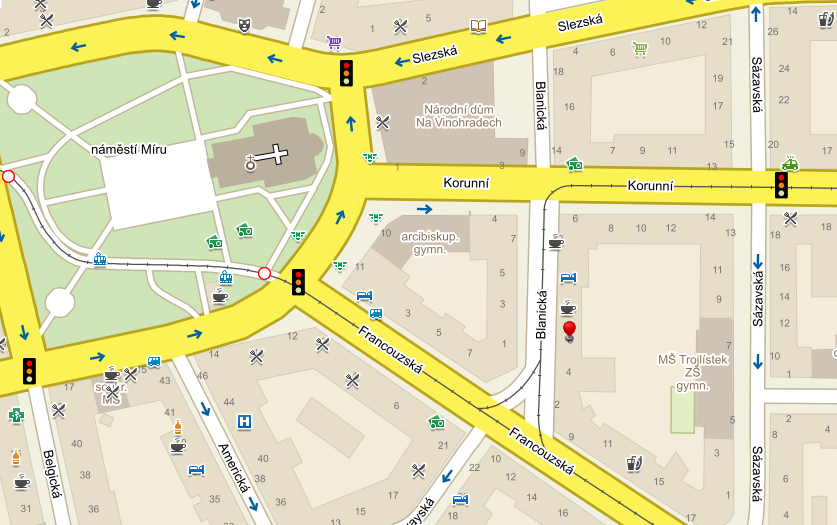 Opening hours:
| | |
| --- | --- |
| Monday | 12 am –18 pm |
| Tuesday  | 10 am –18 pm |
| Wednesday | 10 am –18 pm |
| Thursday | 10 am –18 pm |
| Friday | 10 am –18 pm |
| Saturday | 10 am –14 pm |
Orders with personal pick up at Blanicka street are accepted by every Tuesday evening and ready for pick up on subsequent Wednesday from 12 am. The goods are deposited in the store for 14 days (if you cannot pick up your order, please send us an e-mail to objednavky@nemravka.cz or call +420 734 742 604 as soon as possible.)
If you make your order on Wednesday and later on, your packet will be ready for pick up on the following Wednesday from 12am.
We will notify you by e-mail.
Thank you!
Nemravka.cz