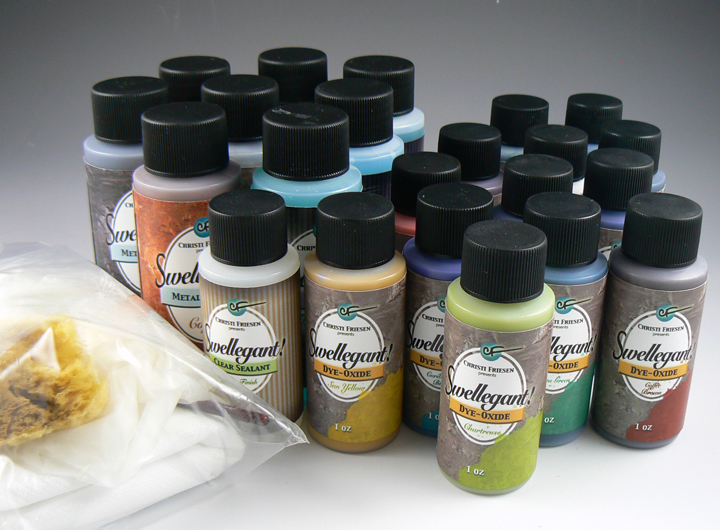 When I first came into contact with these bottles at the beginning of 2012, I was wondering what to do with them... Moreover, how to pass security check at the airport:-)
The second time I got acquainted with them was when I could watch Christi creating a "metal heart" made of Polymer Clay. Then I realized I needed these poducts in my eshop.
So, what am I speaking about?
About Metal Coating, Patina and DyeOxide paints by Christi Friesen
All the mentioned bottles fall into "Swellegant" product range. That includes Metal Coatings, DyeOxide paints and Patinas. All the products are very gentle, they neither smell bad nor corrode craft mats or work surface. They are simply perfect for creation and easy to use.
1.METAL COATING
It deals of finely ground metal pieces in liquid binder. It is suitable for many types of material and its result is metal finish. The coating can be applied on Polymer Clay, wood, resin, glass, ceramic, etc. Moreover, it serves as a kind of base for DyeOxide paints and Patinas.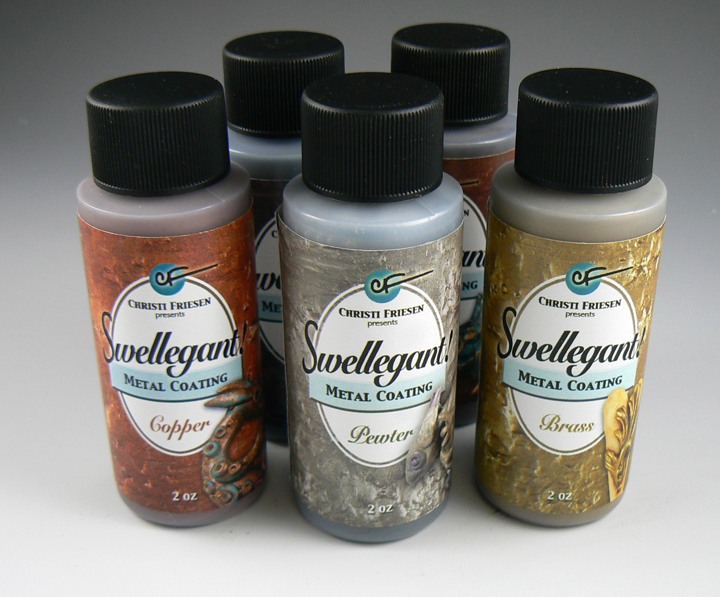 How to prepare the surface of your project before application of Metal Coating?
The surface must be clean and degreased. Just use soap and water. If the surface is too smooth, coarsen it with sand paper. If you coat baked Polymer Clay with the metal coating, you need no preparation. If you want to apply it on raw clay, be careful and do not destroy your desired object shape, the metal coating can be baked together with the clay with no difficulties.
Application
Shake the bottle before use and apply the coating with a brush or a dabber. You reach various surface effects with brushstrokes or brush taps. If you do not manage to coat the surface properly the first time, repeat the process once more later. Particular metal coatings can be mixed. Let the coating dry for 5-15 minutes and apply the second or the third coat. If you wish to apply patina as well, it is time to prepare it on your work surface...
2. PATINA
Patina is applied on wet metal coat (any type of metal coat, not only METAL COATING by Christi). It is real patina, i.e. it oxidises with metal coating and creates various effects. DARKENING makes the coated spots dark and creates vintage effect, TIFFANY GREEN and VERDIGRIS turn copper,bronze and brass surface green (verdigris), RUST creates rust effect on iron surface.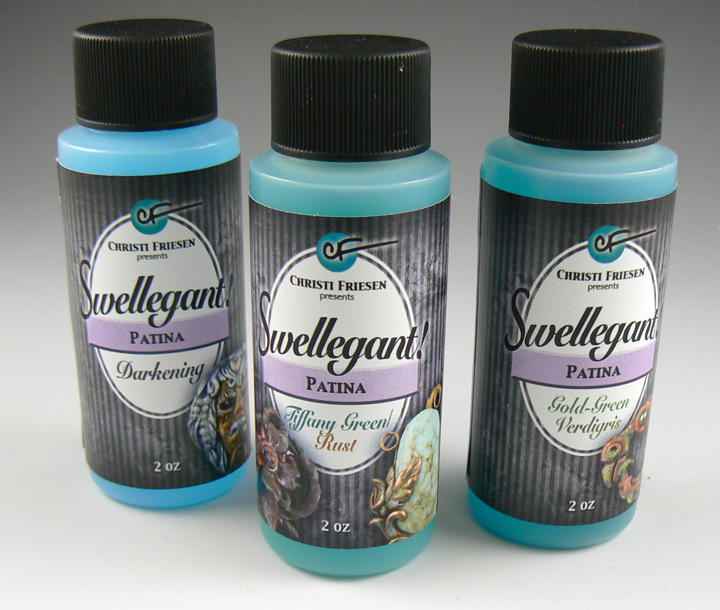 Application
Shake the bottle before use and apply patina with a brush or sea sponge (which spreads patina unevenly). You get an interesting effect when you spray patina on the surface. The oxidation process depends on temperature, humidity, etc. So you should check your object every 5 minutes until you are satisfied with the result. If you wish to stop the process just spray the surface with water or rinse it. Or apply more patina...
3.DYEOXIDE is clear paint which can be applied on both metal coating and patina. It will give colouring to your projects. It is clear paint so it just adds colour, gleam... DyeOxide fuses with metal coating or patina and does not have to be washed off.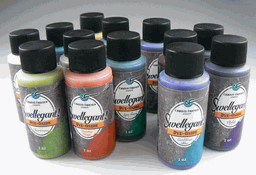 Application
Shake the bottle before use and apply the paint on spots you wish to pick out. The colours can be mutually combined.
FINALLY (ALMOST)...

Are you still unsatisfied with the result of your work? Add a little bit more coating to accentuate details...
The coated surface can be sanded but ... attention! No sooner than in 72 hours after application of all the coats. You can wear the product meanwhile but do not sand it. All the coats need to dry, fuse and adhere to the base. Don´t worry, you will not get dirty, attach the brooch to the coat and if you want to you can sand it in three days.
HOW TO MAKE IT LAST LONG?

Do you dislike varnishing (as well as me) and application of protective coats? Then, let the jewel / product be as it is. Sooner or later patina will get scuffed due to frequent use of the jewel / product and will get a nature of patina. But if you want your product to look exactly as you made it, apply so called Clear Sealant (CS) on it three days later. Shake the bottle properly before use, apply a thin coat of this preservative on your product and let it dry. CS will not make your product glossy. If you need gloss, let the CS dry and apply varnish on it.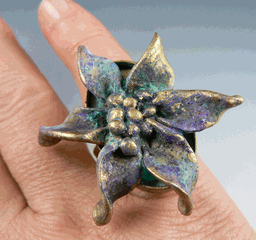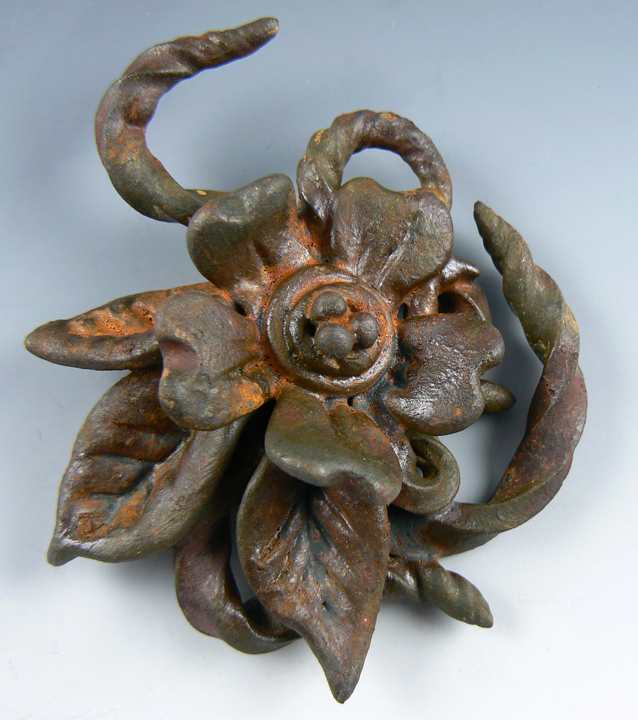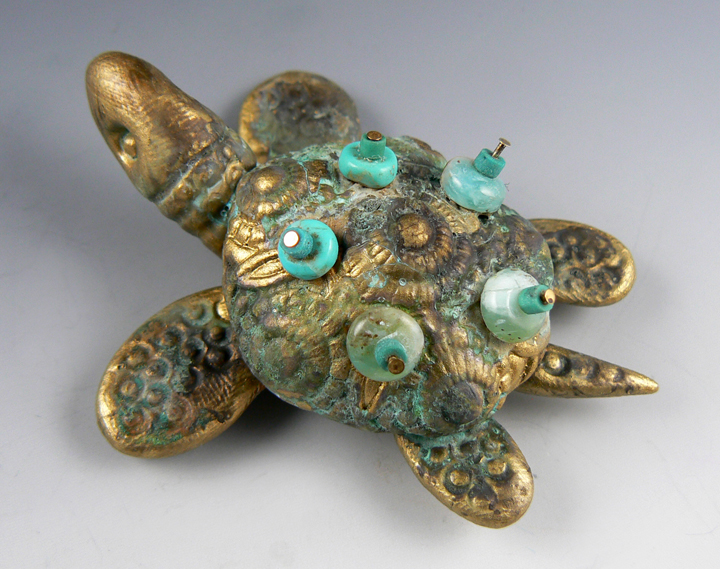 So, what to say in conclusion? Something to pep the text up... Well, I really enjoyed creation today. And my jewel looks very original and unique:-)
Enjoy your creation!
Petra Nemravka