Anyone who has ever fallen in love with stamps knows that my words are true. Even if you have three boxes of stamps with any possible motifs and you are cautious about getting new ones, sometimes you might fall for magic of other motifs...     Well, I´m describing my addiction but I´m sure it´s not the only case..:-)
Stamps are suitable for both Polymer Clay and scrapbooking. There are plentiful motifs and types of stamps. So, which stamps are good for which techniques?
First, let´s have a look at their classification:
·         Stamps on wooden blocks – are usually the most expensive ones. But they are solid and if you maintain them properly (i.e. you clean them right after finishing your  work), their lifespan will be infinite. The functional part of the stamp – the one with a motif – is made of hard rubber. Hero or Aladine produce this type of stamps.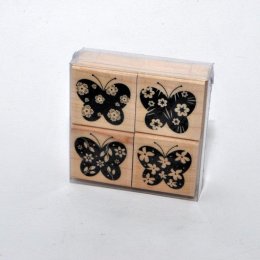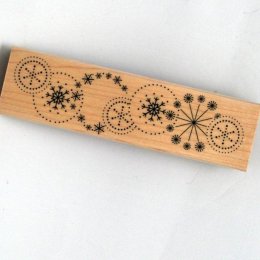 ·         Stamps on foam blocks – are cheaper than stamps on wooden blocks. When printing them on paper, you may come across insufficient depth of imprint, i.e. the motif is often not deep enough. Foam is not that hard as wood so the exerted pressure on the surface is not transmitted properly. Well, when you need to get deep imprint, be cautious and focus on every spot of the stamp and press it with force. Or another technique: the stamp itself can be easily peeled off the foam block and the functional part used like a texture rubber sheet. If you use the stamps only on Polymer Clay, do it like this. But if you use them for both Polymer Clay and scrapbooking, then it´s better to keep the rubber on the block. Aladine is a renowned producer of these stamps.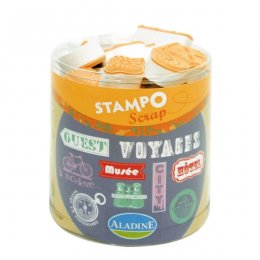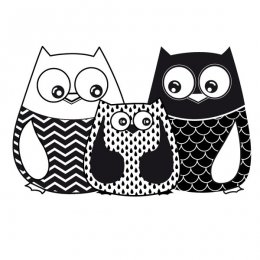 ·       Cling stamps – Cling is 8 mm thick foam sticky on one side. This side is either attached to the functional textured part of the stamp or is separately wrapped together with the stamp in a package. It is ready to be cut out along with the motif. The second side of the foam can be temporarily attached to an acrylic block and removed after use. The functional part of the stamp (i.e. the motif) is made of hard rubber or photopolymer. Following companies make these stamps: . Ranger, Prima Marketing, Inkadinkado, Crafty Individuals, etc.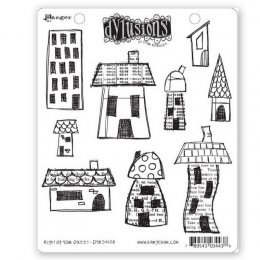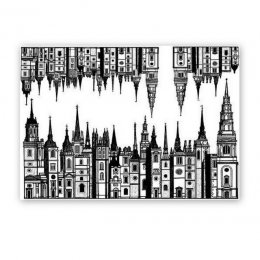 ·       Clear stamps – are the cheapest stamps offered in a wide rage of motifs. They are made of photopolymer – one side contains a motif, the other one is ready to be attached to an acrylic block. These stamps are perfect for both scrapbooking and Polymer Clay work. They must be cleaned properly after use. Their drawbacks are : shorter lifespan, motifs can be sticky and less solid compared to the rubber stamps.The most famous producers are Hero Arts, Kaisercraft, Fiskars, SMT Creatoys, Viva Decor, Rayher, Basic Grey and others.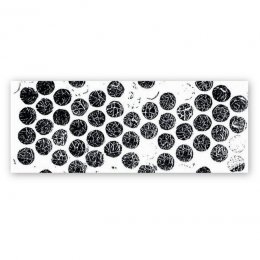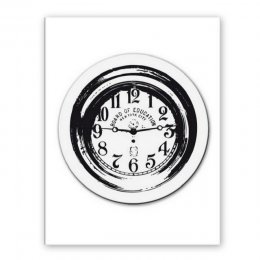 ·          Texture stamps – also texture sheets fall into this category of stamps. Paint is applied by means of embossed parts of the texture. They are made of hard rubber or plastic and their use depends on the depth and density of the texture. Texture stamps by Lisa Pavelka or Cool Tools are intended directly for Polymer Clay work. But you can also use them for stamping on paper.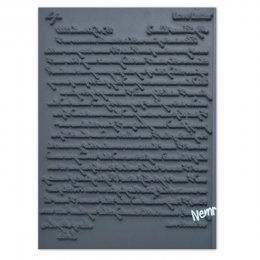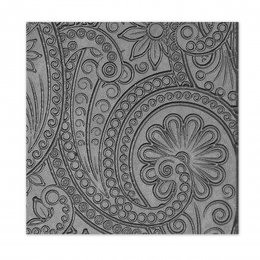 How can stamps be used?
There are two main groups of techniques for use of stamps in Polymer Clay work: stamping (i.e. printing ink, acrylic paint, and others on Polymer Clay) and embossment (i.e. impressing the motif into the clay).
 ·      Stamping on Polymer Clay is easy, quick and effective. Any motif can be transferred on Polymer Clay but the choice of ink is important. Oil based inks (e.g. Archival) or solvent based inks (e.g. StazOn) are the best for stamping. Both the types of ink do not run before and after baking so they are perfect for imprinting letters. Following types of ink can be used for colour background : alcohol based ink (Adirondack or Piňata in bottles) or pigment ink (Brilliance, Adirondack, ColorBox in pads). Except for alcohol based ink, be cautious about running and rubbing-off when working with inks. It is recommended to coat such ink by a very thin layer of transparent clay. The imprinted contours of the stamp can be coloured in with permanent markers or the above mentioned inks.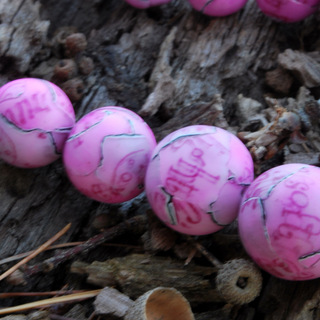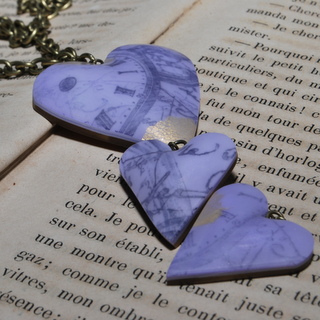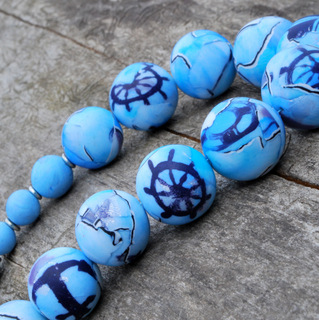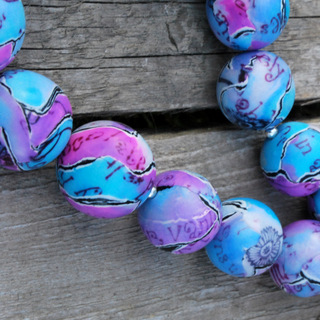 Embossment is a wide term and includes e.g. technique of powder application on embossed spots, stamping with powders, Sutton Slice, technique of stitch-work, ink application and subsequent sanding of embossed layers, Mica Shift, Mokume Gane, Magic Hidden, etc. Embossment on clay surface is their common element. For this reason, stamps with deep texture are more suitable for this group of techniques. It is particularly important fort techniques cutting off top layers (to make the bottom ones emerge), like Mica Shift, Mokume Gane, Magic Hidden, to use stamps with deep texture. Moreover, motifs of such stamps should be "sharp" enough, i.e. not to be rounded at the top. Large motifs (e.g. texture sheets by Lisa Pavelka) are perfect for cutting-off techniques. Stamps with tiny and fine motifs (e.g. texture sheets by Cool Tools or Judi Kins) are good for imprinting motifs and spreading powders, acrylic paint or inks on them. For Sutton Slice, a technique where pieces of clay are squeezed into the stamp, fine patterns of stamps are perfect. (Attention – only texture stamps can be used for this technique.)
Bracelet with embossment of Aladine stamp on a foam block       Bracelet with Swirly Q texture / by Lisa Pavelka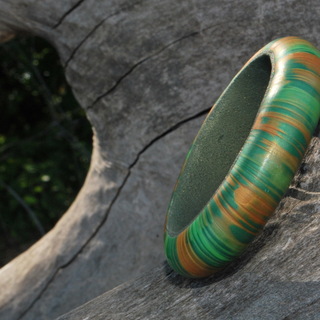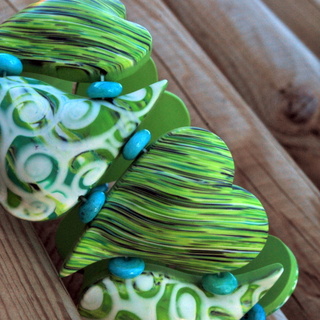 Textured beads                                                                     Jewellery with Swirly Q texture / Lisa Pavelka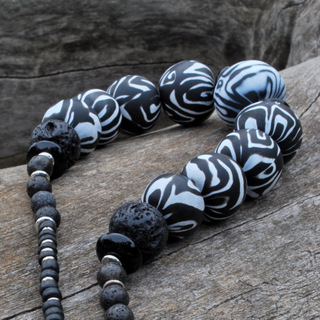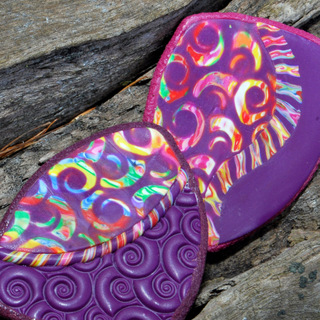 Textured beads                                                                  Textured necklace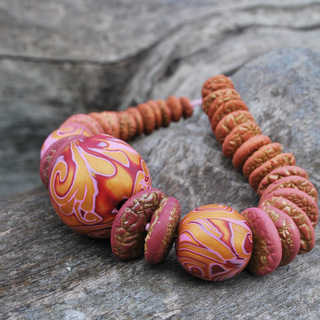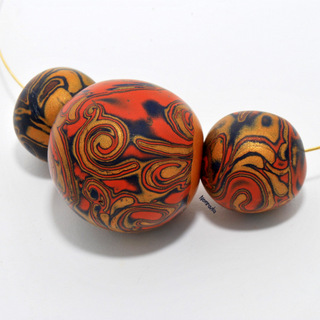 The purpose of this article is to introduce you everything that you can find on the net by names of the techniques, as well as in my first book of "Fimo, Polymer Clay Jewellery" . Many techniques using textures are described in Lisa Pavelka´s book of "Complete Book of Polymer Clay" and other publications, e.g. by Donna Kato, dealing with techniques of Polymer Clay surface treatment.
Finally, here are some tips how to choose and maintain stamps:
·         When choosing a stamp, focus on depth of the motif (for cutting-off techniques deep textures are appropriate) and its density (for ink application and sanding, as well as for Sutton Slice technique, fine motifs are perfect).
·         Size is important. If you are a minimalist and your jewellery is tiny, stamps with fine motifs are better for you since entire motifs will be visible on your projects.
·         Vice versa, if your jewellery and decoration projects are large, stamps and their motifs should be of bigger size.
·         When you finish work, clean the stamps. Special cleaners exist for this purpose. Or use an old toothbrush to remove rests of clay to avoid them stick to the stamp surface.
·         Clear stamps should be stored in a binder, attached to a plastic foil. When you put a colour sheet of paper below the stamp, you distinguish various motifs and make the transparent stamps visible. Or, get an original storage stamp binder by Tim Holtz.
·         Cling stamps are recommended to be stored in CD pockets.
·         Even your artistic signature or initials can be a stamp. You get it at any place where stamps are made. Print it on the back side of your jewellery and make your masterpiece unique.
I wish you good luck and fun! One more note for mammies: don´t be afraid of a little paint on a T-shirt and all naked parts of your kids´ bodies. Your children will love stamping! Stamps can be combined with pencils and you will have time for your creative work:-)
Petra Nemravka
PS: you can also look at this article on stamps from a scrapbook fan´s point of view:-)