Would you like to know what is so magic and interesting about Magic Glos?

In general, I´m not fond of resin, since I don´t like stirring it, moreover, it´s toxic and you can spill it... Maybe for these reasons Magic Glos is different and really magic...
It is one-component resin – transparent non-toxic liquid gel toughened with UV light, which is easily feasable in countries where the sun shines regularly (unfortunately not in the ours) or by means of a UV lamp. At this point I want to draw attention of all those discouraged by getting a UV lamp that the lamp is good investment, it costs about CZK 400 and its lifespan is really long. Beware of windows with UV foils – Magic Glos will not be cured...
Well, if you have both Magic Glos and a UV lamp, get down to work. What is the resin good for?
Compared to the standard resin, Magic Glos is suitable also for gradual sealing of bezels where tridimensional effect can be reached by layers of gel. Simply put various objects into the bezel – micro inclusions, mini pearls, steampunk elements, dried flowers, etc. – and seal them by Magic Glos. Then make another layer adding other objects, and the jewel will get depth. Particular layers of the gel must be cured with the UV lamp for at least 5 minutes each (meanwhile you have time for more 3 pendants) and you go on like this... Magic Glos is perfect for any other projects as well.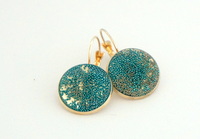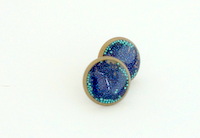 Even micro beads can be sealed by Magic Glos.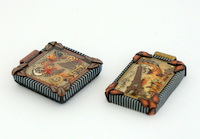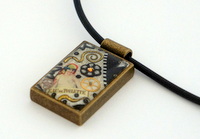 Sealed stempunk elements, transfer pictures and other inclusions. (See this masterpiece by Lisa Pavelka, from Clay & Play 2012 event)
When pouring Magic Glos on Polymer Clay, don´t forget the clay must be baked. If it is not baked enough, the gel will make the clay sticky and the "melting" surface will be apparent. If the clay is well baked, Magic Glos will highlight the motifs of the clay and metallic elements will start shining. This resin, likewise the other types, can be called "magnifying glass" – it sets off everything that is underneath. Magic Glos can be used also with transfer pictures (– spread a little liquid Polymer Clay on pictures before application of the gel and bake or toughen them with Heat Gun), next with stamps, acrylic paints, etc.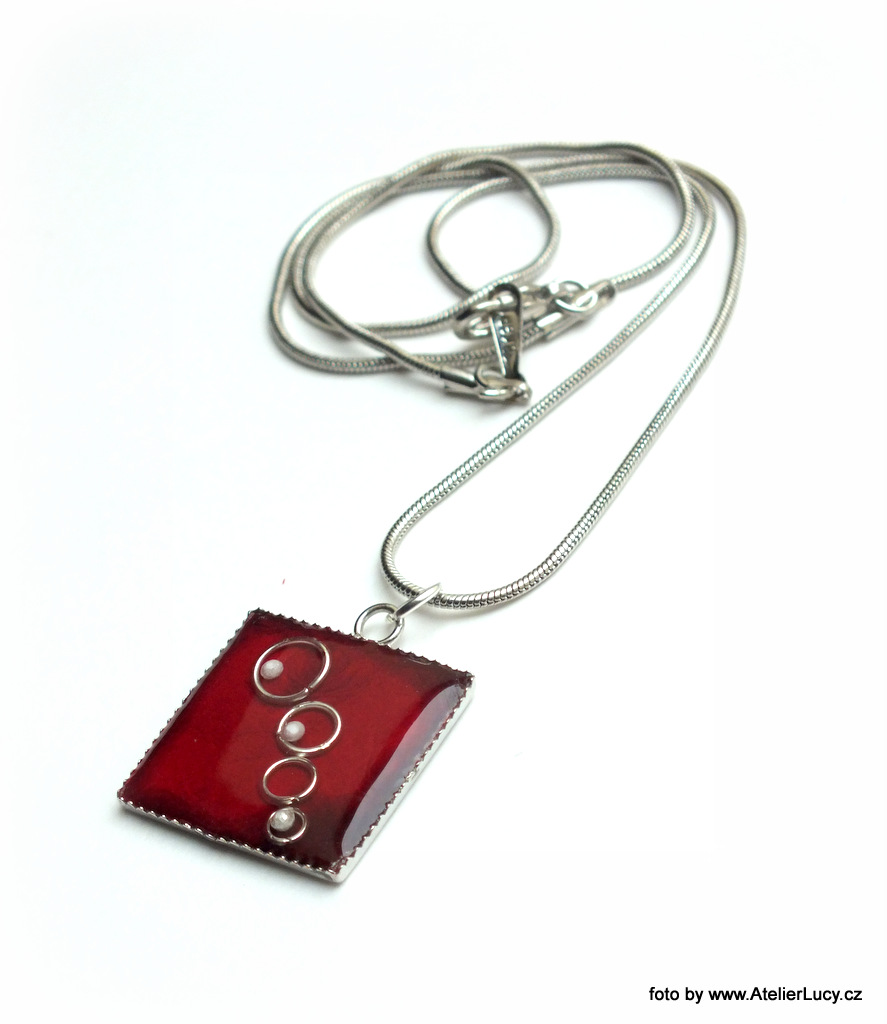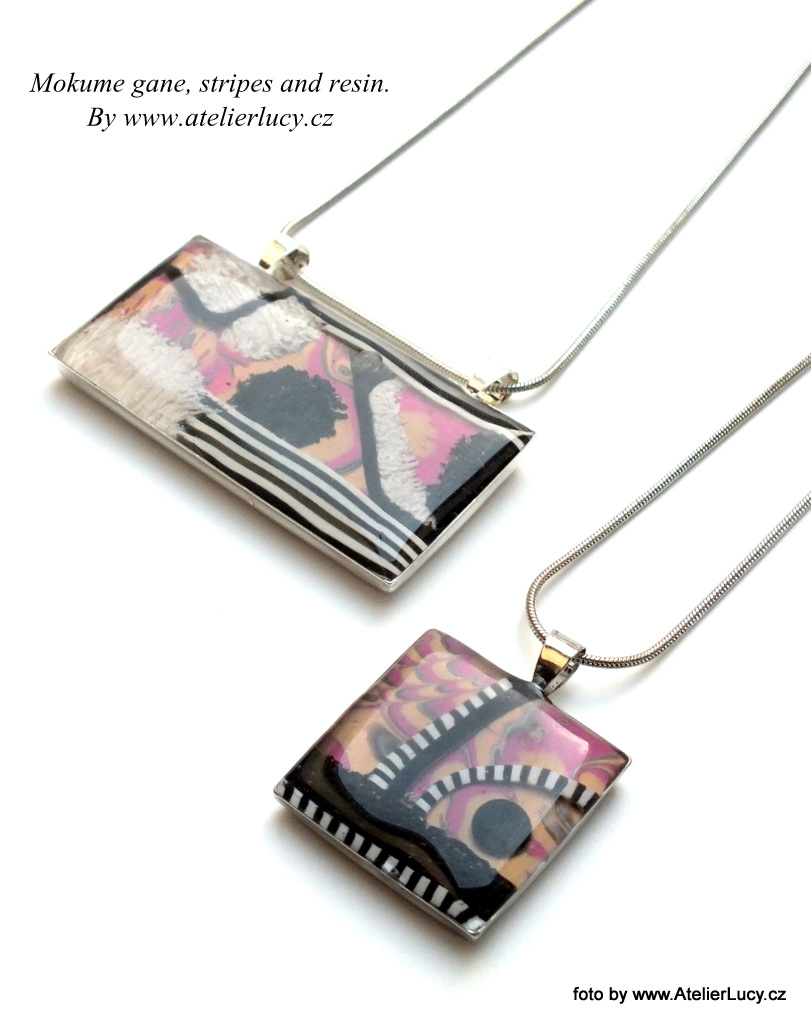 Application of Magic Glos on red leather, sealed Polymer Clay inclusions (by Lucka Štruncová)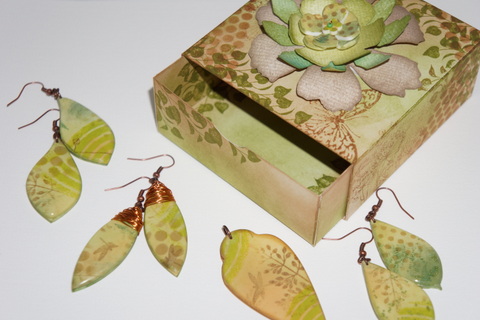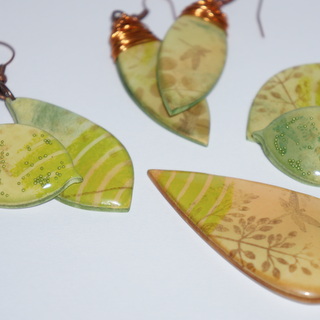 Application of Magic Glos on acrylic paint and stamps (by Petra Nemravová and Katka Hromasová, for Korálki magazine)
Procedure:
1/ Get a bottle of Magic Glos (it is recommended to store it in dark place).

2/ Apply the gel right from the bottle in the middle of your project.

3/ Spread it from the centre towards edges using a toothpick.

4/ Have the project toughen by UV light (the sun or a UV lamp)

Instruction pictures come from www.lisapavelka.com
Useful tips for work with Magic Glos:
1.Use a toothpick, a hole-making needle or a ball stylus to spread Magic Glos. I prefer the ball stylus for its ball that binds gel and retains it, thanks to which gel spreads up to the edges without overflowing.
2.I have heard that resin might pull off edges when being toughened in the lamp. It is natural quality of resin to create so called cabochon effect (kind of ball), which pulls the gel off the edges. If you encounter such a situation, simply add one more layer of resin and have it toughen in the lamp.
3.Apply Magic Glos in thin layers – it is toughned from the top layer to the lowest one, which makes the gel thoroughly tough in short time.
4.When sealing micro inclusions in layers, the last layer should be Magic Glos. This guarantees smooth surface.
5.If you want to drill a hole into the Magic Glos, wait for at least one hour after baking, since the lowest layers may be still soft. If the clay is sticky like chewing gum when drilling a hole, the gel is not tough enough. And your work will be more difficult to finish...
6.Do not let Magic Glos in the UV lamp for too long time. 5-15 minutes for one layer is right (depending on thickness and size of the layer). Otherwise, the gel may turn yellow.
7.Magic Glos is not compatible with glue. It is not recommended to use it with alcohol inks. Pigment inks, chalk inks ands acrylic paints are o.k.
8.When putting your projects into the UV lamp, use an old credit card and a piece of any clay (place it under the project, in the middle of it). If Magic Glos overflows, the lamp won´t be damaged. Moreover, thanks to the piece of clay, the project will not stick to the card.
If you need any more information, feel free to contact me at petra@nemravka.cz or watch following instruction videos.
Enjoy your magic-glosing!
Petra Nemravka