Izink is pigment ink in beautiful bright colours. Having acrylic base its qualities are similar to acrylic paint.
Izink can be used in both scrapbooking and Polymer Clay creation (with Fimo, KatoPolyclay, Premo, etc.) Unlike alcohol based inks (used on Polymer Clay as well), Izink ink dries a bit more slowly (it takes a few minutes) and its colours are deep and bright.
Here is an IZINK project + some tips for work with this type of ink.
For this project you will need following:
-IZINK ink (basic classification is: pearlescent and deep colours; every colour has both the variations that can be mutually combined and mixed)
-sponge (or just your fingers)
-black and white Polymer Clay (here KatoPolyclay)
-stamp (here Abloom Heart by Aladine) and texture sheet (here Nautilus by Cool Tools)
+ standard tools for Polymer Clay work (pasta machine, blade, roller, mat and oven)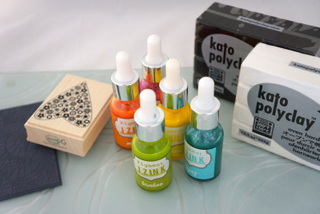 How to choose a stamp?
For this technique, finely textured and largely embossed stamps are convenient (i.e. clay is squeezed into the stamp). The stamp on the left (by Aladine) is better for this technique than the one on the right, which is suitable for other techniques.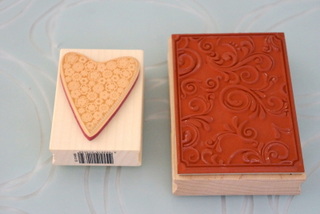 Procedure:
1.First, condition white (black) clay on the 2nd widest setting of your pasta machine. Depending on the type of the stamp and the clay, you will need water (use Mister to spray clay or the stamp), corn sparch or Armor All to unstick the stamp from the clay. Press the stamp into the clay and have the motif imprint properly. Then, cut the shapes out and have them bake for time and temperature recommended by the producer of the clay.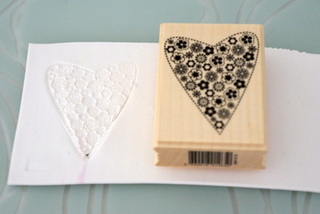 2.When the clay cools off, take sponge (here I use alcohol ink applicator felt) and apply ink on the clay. The first layer of the ink is the basic coat. It should be properly spread to make next layers adhere. For the basic coat choose a colour that will prevail, or take only white/ pearlescent neutral colour. Let the ink dry for ca 5 minutes.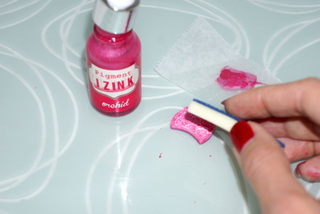 3.Then apply further layers – the picture shows that more coats of various colours have been applied. Colour is then very deep...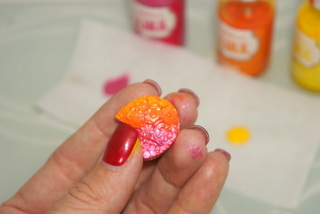 4.When the ink is completely dry (in ca 10 minutes), smooth the last coat with fine sanding paper (800 or 1000). The motif of the stamp will become apparent. Rinse the dust caused by sanding or use wet wipes.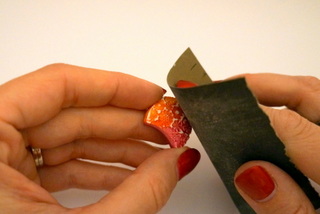 Tips for work with IZINK ink:
• Thanks to deep and finishing colours, Izink is perfect for any types of clay. Here is an example of black and white variation.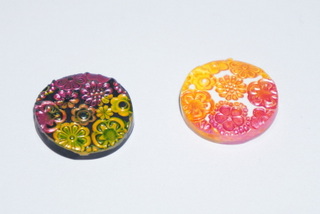 • It is better to apply Izink on baked clay – you can easily sand the top coat and colour will remain bright (see the difference: on the left, Izink was applied on unbaked clay, while on the right: on the baked one)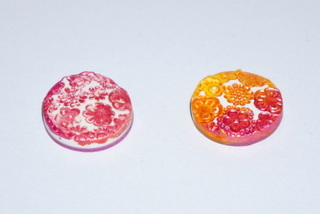 • Thanks to the acrylic base, Izink does not need to be fixed. For creation of a bracelet (which is exposed to daily wear and tear), use varnish in spray.
• Moreover, to make your jewellery brighter and more shining, seal it with Magic Glos or another type of resin.
It is fun to create with Izink ink. The pictures shows results of ca one-hour work with Izink inks.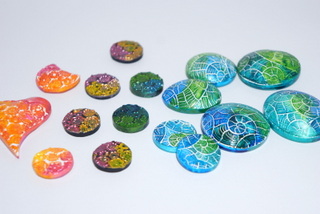 Enjoy IZINKing!
Petra Nemravka