Great Distress inks by Ranger company are products worth dealing with and worth describing in this section. If you have already tried them out, Distress is no news to you.
In the world of scrapbooking, inks are indispensable aids. Their basic classification and ways of use are described in the articles of "Inks and how to use them in scrapbooking" and "Useful instruments for work with inks".
Distress ink pads are impregnated with so called Distress ink which is special water based ink. The ink is perfect for papercraft - you can use it in scrapbooking, cardmaking or other techniques of papercraft. The ink creates Vintage effect on projects, an aged look. Particularly when stamping, the motifs of stamps get interesting Vintage effect. Distress ink is also packed in bottles which is useful for brightening ink pads or the ink may be applied on projects directly from the bottles.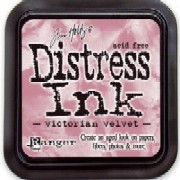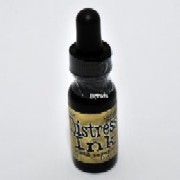 Distress ink can be also used at Polymer Clay work but only for dying surface. It is not suitable for stamping on the clay.
There is a range of 48 colours of Distress ink pads. You create original backgrounds on your projects with them. They are for use at various techniques and are applied by means of a wide range of tools.
Basic techniques of application:
- ink dabber-stamp – apply the ink in circle motions or dab it on your project. Blend various ink colours. Either use the same dabber for the same colour or get spare foam.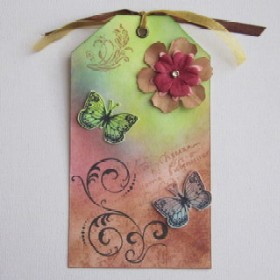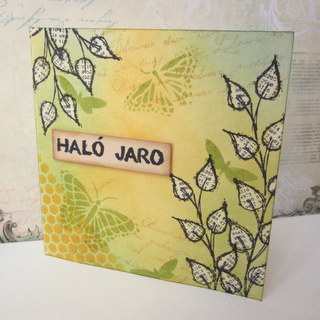 - ink brayer – roll the brayer over the pad and spread ink on your project. You can blend various colours and create colour transitions as well.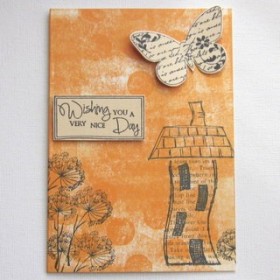 - water application – spread ink from ink pads on your mat (or any kind of plastic surface). Change several colours. Spray it with water and dampen your project in the ink stains. You get gorgeous colour effects on your project backgrounds.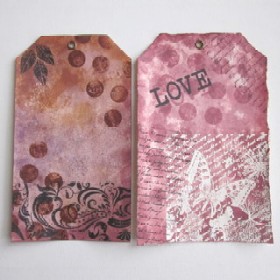 - crumpled paper – crumple a sheet of paper first and then straighten it. Spread ink from Distress pad on it. Spray it with water. The ink will start running and create beautiful Vintage effect. Let it dry on air or dry it with Heat Gun. Finally, iron the sheet out (over deli sheet).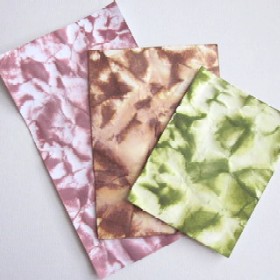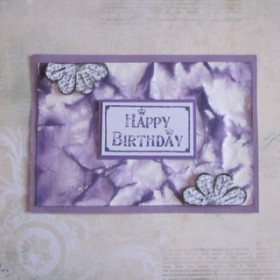 - stamping – put a stamp on the Distress pad and print it on your chosen place. The stamp will get Vintage look.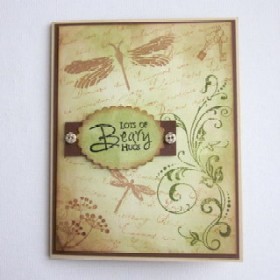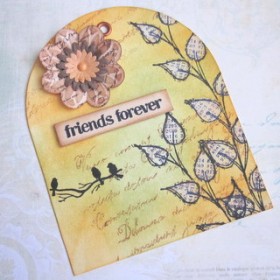 Distress ink pads are acid free thus perfect for work with photographs (for dying, stamping). They are slow-drying, so ideal for use at embossing.
Distress ink pads are wrapped in protective foils to prevent them from spontaneous opening. So, anytime you finish work, close the pads. It supports longer lifespan.
When you finish, rinse the stamp under running water or wipe it off with baby wipes. If the paint becomes dry and you can not wash it off, apply stamp cleaner.
The pad´s lifespan can be prolonged by means of Ink Refresher. So, do not throw away any pad if you have a feeling it "does not work".
The brand of Distress means more than ink pads. Distress markers, which are ideal for writing, colouring in or stamping, are filled with Distress ink as well. Next, Distress embossing powders for hot embossing also fall into the Distress range. Distress material can be mutually combined thanks to the identical colour range – e.g. Distress ink pad of Broken China, Distress marker of Broken China, Distress embossing powder of Broken China, etc.
Moreover, Distress ink pads can be combined with other inks and paints, e.g. Color Wash, Archival, Adirondack, Acrylic Paint-Dabber and other embossing and pigment powders.
If you have any questions about ink pads from our offer, feel free to contact us at scrapbooking@nemravka.cz. We are pleased to answer and advise you.
Watch videos below for instructions on how to use Distress inks:
http://www.youtube.com/watch?v=UV-8nWHplaY